Homemade Food for Cats
Homemade Food for Cats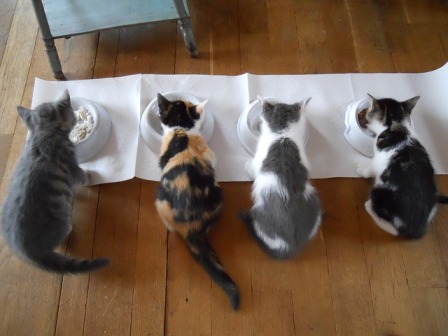 No matter how hard manufacturers for cat food make an effort to produce super quality feline's food, processed food can never contain all the ingredients cats' ancestors had found in the wild. Any isolated vitamin or nutritive element cannot completely replace the same nutrient in its existing form in nature. Even though we try to find a good balance between dry and wet cats' food as well as take care to provide a high-quality food from trusting manufacturers, we cannot meet all cats' needs for rich nutrients as they had found once in the wild. If we want to enrich a diet of our cat, we should include natural meals on its menu. It is not necessary to bring in homemade food and replace the processed food completely. Two or three homemade meals per week would be enough. The article "How to Make Your Own Cat Food" gives us a few recipes for homemade food that we can try out and eventually insert into the cat's regular diet.
Homemade Food for Cats
Basic Cat Food
from Ecolife: A guide to Green living

• 1/4 teaspoon olive oil or salmon oil
• 2.7 grams of feline vitamin/mineral supplement
• 30 grams of potato, cooked without skin
• 50 grams of carbs (choose one: cooked pasta, white rice, barley, oatmeal, peas)
• 83 grams of cooked animal protein (whole meat chicken, lamb, rabbit, beef, pork, tuna, salmon)

Mix all of the ingredients together (a blender works really well for this purpose) and store the food in the fridge until needed.
———–

Tuna Patties
from Healthy Recipes for Pets

• 1 can tuna
• 1/2 cup boiled rice
• 1/4 cup pureed liver
• 2-3 sprigs parsley chopped

Drain the tuna and mix everything together. Make 6-7 balls and then pat them into patties. Store in the fridge and serve to your cat. This is one cat treat recipe that your feline friend won't be finicky about.
———–

Rabbit Stew
from the book Natural Cat Care by Christopher Day:

This meal is also good enough for human consumption. So get out two plates, for kitty and you.
• Rabbit meat (wild or domestic), boned and cut into small pieces
• A little olive oil
• A few springs of parsley, rosemary, marjoram and thyme
• Vegetable stock (unsalted, so best home prepared)
• Sweet potato, carrot, celery, leek, turnip, peas

Sautee the rabbit chunks in the olive oil. Sprinkle with herbs. Add the stock water and bring to a boil. Cover with lid and place in a medium-low oven until cooked through. Add the chopped vegetable and peas and return to the oven for a another 45 minutes. Let cool, then give to kitty.
Preparing homemade meals for our precious pets, can bring us a lot of joy and refresh a cat's diet significantly. However, if we want to take another step in a direction of the homemade diet, we need to know much more about the essentials of cats nutritional needs, necessary vitamins, and minerals. Before we enter into deeper research about feline needs, preparation tips, and ways of storage, we can cook a good and quality meals, following only the list of ingredients that can affect our cat badly. The list is simple and easy to remember: garlic, onions, raisins, raw egg whites, tomatoes, grapes and the worst of all – a chocolate. After a few weeks of cooking for cat, we can easily notice the changes in its health like shiny and dense coat, bright eyes, and good dental health. And a healthy cat is the biggest reward for our time and energy spent on cooking.