How to Make Homemade Toys for Cats
How to Make Homemade Toys for Cats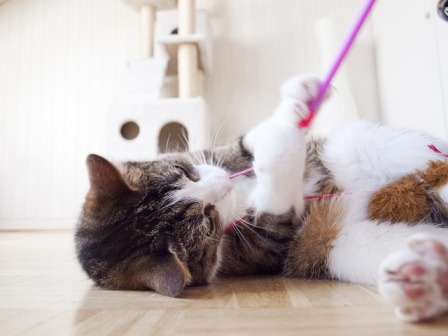 Play is the essential part of life of the young kitten. Through playing kitten learns how to hunt, exercise its muscles, improve cat's reflexes, and gain strength. Playing is not limited on young kittens only; playing is the vital part of cat's adult life. It is especially important for indoor cats, since they are less exposed to the outer stimulus than outdoor cats. Two playtime sessions of 15 minutes with the cat can make it less aggressive and less nervous. Not only that interactive play can help the cat to release an energy surplus, but also makes a strong bond between the cat and its owner. Although there are many toys on the market, we can also make our own toys which make the cat crazy. The article "Homemade Cat Toys" lists some ideas on how to make handmade toys for our cat.
How to Make Homemade Toys for Cats
Some simple homemade cat toys include:

• Paper or ping pong ball – Believe it or not, your kitty can have hours of fun with this. Simply take a large piece of paper, crumple it into a ball and
throw it.

• String toys – Attach a feather to a piece of string or use a fishing pole with fun creative lures at the end such as bells or lights. I like stuffing a
stocking with some catnip and attaching it to the fishing pole.

• Bag toys – Never use a plastic bag for these homemade cat toys; instead, use a large paper bag from a supermarket or department store. You can also do
this with a cardboard box, just be sure to remove all staples and tape.

• Mouse-like toys – A friend of mine taught her cat how to play mouseball using a toy mouse and throwing it in the air. The cat would swat it towards her;
she would catch it and throw it back in the air just like baseball.

• Toys with lights and sounds – Take your bag toy and put bells, balls or lights inside, and then close the bag up and watch kitty try to get into it.

• Catnip toy – Not all cats are affected by catnip, so you will have to test your cat. If he is catnip sensitive, do not over use it because he can get overheated and exhausted.

Other Homemade Cat Toys:

• An empty toilet paper roll or paper towel roll makes a fun toy.

• Empty plastic bottles with labels removed and bells or lights inside (what I like to call the bug in the jar) will make your cat go crazy for hours.

• Blow bubbles! Easy for you and fun for your cat.

• Save bungy cords, fuzzy toys, feathers, bells, little lights and all sorts of things that you thought were junk because when you are feeling creative, you
have a whole toy store for your kitty.
Whether the cat will find the toy interesting does not depend on its affinities only; what makes the toy more interesting is the game. For every interactive game with cats, it is important that the game resembles hunting. While playing with the cat, we are entering into its world of hunters and prey, and it is up to us to engage the cat in playing, which is familiar to it. There is no need to wave around the toys as preparing the cat for a marathon. The idea behind the game is to provide a substitute for cats' life in nature, where they are sneaking around, sniffing, jumping and catching the prey. By hiding the toy from its visual field, we can imitate the prey and make the game extremely interesting. Engaging the cat in this pleasurable activity has the great benefits for its health like preventing obesity, reducing the stress, and increasing overall health conditions. Thus, the more the cat plays, the healthier it will be.
Here's a new web site on this topic:-