Researchers study cure for deadly cat disease
They aim to improve veterinary understanding of illegal FIP treatments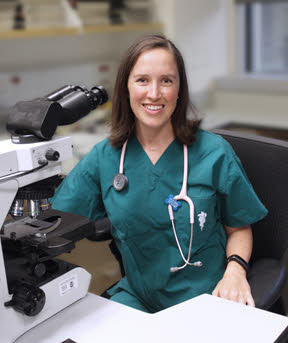 On an evening in late August, an Ohio woman drove to a gas station to meet someone she knew only from Facebook. She gave him $180 in exchange for needles, syringes and two unlabeled 5-milliliter vials filled with clear liquid. It was a drug deal with a twist: The buyer was a veterinarian trying to save her own cat's life.
The veterinarian was buying an unauthorized version of an antiviral agent that is not produced or approved in the U.S., but has been shown to reverse the progression of feline infectious peritonitis (FIP) in a clinical trial involving a couple dozen cats.
"I definitely had concerns with what I was doing," the veterinarian told the VIN News Service by email. She agreed to talk about her experience on condition of anonymity to guard against repercussions for using an unapproved drug. When her pet was diagnosed with FIP, a deadly viral disease, she said, "I was no longer a vet. I was an owner in distress and about to lose a kitten who had barely begun to live."
Upon the first injection, she saw the kitten improve. At that point, she said, "My concerns were gone. This was the only thing that made sense."
A growing number of people have reached the same conclusion. Over the past two years, unapproved antiviral treatments for FIP have made their way to cat owners worldwide, facilitated by online groups. On these same platforms, hundreds, possibly thousands, of people have reported that pets suspected of having FIP are bouncing back and showing no further signs of illness. The Ohio veterinarian has her own survivor testimonial: A month and half after completing 12 weeks of daily injections, her cat "is looking and acting amazing."Photo courtesy Dr. Samantha EvansA clinical pathology professor at The Ohio State University College of Veterinary Medicine, Dr. Samantha Evans researches multiple aspects of FIP. "I had my own kitten die of this disease," she said. "And so, I have a personal vendetta for that reason."
In August 2019, VIN News reported on the incipient grassroots effort to treat FIP cats with knockoff drugs made in China, centered around a private Facebook group known as FIP Warriors. At the time, the group had around 2,000 members. By the summer 2020, FIP Warriors reached 30,000 members. Last October, an FIP Warriors group for veterinarians was established. It has more than 6,000 members today.
The crowdsourced initiative has become a sprawling, extra-medical experiment on an internet plagued with pseudoscience and junk cures. It is a decidedly imperfect research universe. However, Sarah Jones, a fourth-year veterinary student at The Ohio State University College of Veterinary Medicine, and her clinical pathology professor, Dr. Samantha Evans, believe the groups' experiences are too important to dismiss.
During the summer, they surveyed 400 cat owners and 150 veterinarians who used or oversaw the use of unapproved drugs to treat cats diagnosed with or suspected of having FIP. They compiled the results to present a methodical exploration of what's happening with these unauthorized treatments, which, to their surprise, produced survival rates of 80% and better. Now with a draft of those findings in hand, their goal is to get the citizen science out to veterinarians in the more trusted venue of a peer-reviewed journal.
Click link for the full article